Bibble 5 Plug-ins

Andrea - Film Simulator
Brenda - Colour Grader

Learn More
Bibble 5 Plug-In Home/Index
About the Author
Follow Sean on Twitter
A plug-in for the camera RAW image processing program Bibble 5.
by Sean M Puckett




What does Brenda do?
Brenda is a colour grading tool. It adjusts the look and feel of an image by shifting the tint, brightness, vibrance and contrast of up to 24 distinct colour "patches." Brenda is designed to enhance the look of the image as a whole, and can very easily and quickly build a unique colour treatment to give a special look and feel to your photography.
Get Brenda Now -- free
Free Version
Download
Instructions Included
Installation Package
Windows, Linux and Mac versions in the same download.
Brenda for Bibble 5 -- Release Notes.
To install, launch Bibble then select File -> Install Plugin... and select the downloaded file.
Please provide feedback at the Bibble support forums under "3rd Party Plug-ins".
Purchase Brenda Full Version Now
Suggested pricing is in effect for this plug-in! You can choose from a range of prices during check-out. There's no difference in functionality. All I ask is that you choose a price that is fair and reasonable for you.
No kidding, no catch!
TO BUY: login to plug-in manager.
Sample Images
This "style" shifts the whitepoint to a warm orange while moving the blackpoint to a deep blue. Skin tones were warmed slightly. This change used just three patches and took less than a minute to develop.
A quick adjustment, punching up the yellows and making the background just a little more blue. Brenda+AndyPRO in RGB mode.
More Screenshots
Brenda User Interface
Enable Checkbox
Turns on/off the Brenda plug-in effect.
Map Checkbox
Shows, via "paint-by-numbers" overlay, which patch is most similar to a region of the screen. Match the number shown to the button number in the patch palette.
Reset Button
Resets all patches to null effect and turns off the plug-in.
Info / Upgrade Button
Displays version number of the plug-in.
Patch Palette
Each of these 24 coloured buttons is a colour patch. Click on a patch to adjust the colour applied to pixels that are similar to that patch. (Patch colours chosen are similar to those found in the Gretag MacBeth Colourchecker chart.)
If a patch has settings applied, the border of the patch will be outlined in a heavy black border. In the sample shot to the right, patches 12, 41 and 46 have settings.
Patch Indicators
The top line of the patch adjustment area has information about the current patch. From left to right:
Current patch colour box
Shows you the colour of the currently selected patch.
You can click on this box to bring up a palette window. Choose a colour in the palette, and the nearest patch to that colour will be selected for you.
Patch enabled check box
Click to activate / deactivate the effect the current patch has.
Patch number
Corresponds to the numbers in the patch chart, and on the patch map.
Patch name
An easy-to-remember name for the current patch.
Patch transformation colour box
Previews the change the current patch makes. Shows only the effects of colour, tint and lightness.
If you click this box, a palette window appears. You can choose a colour in the palette and the patch adjustments will be changed to make the current patch colour transform into the chosen palette colour -- to the degree possible by image complexity.
Patch Adjustments
These controls affect the look of the current patch.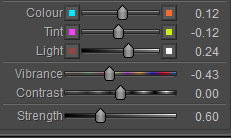 The colour, tint and light sliders are accompanied by small colour chips on either end. These chips indicate how the patch colour will change when you move the slider in that direction. (If you click a chip, you'll get a palette pop-up; this is a bug in Bibble 5.0.1, the palette should not appear as it does nothing.)
Colour Slider
Adds (positive) or subtracts (negative) colour to the patch. In general, adding colour to a patch makes it more saturated without changing its hue significantly. Removing colour makes the patch less saturated, but also can add the patch colour compliment for strong effects. White and grey patches will become redder when colour is added.
Tint Slider
Alters the colour of the patch. In general, shifts the colour to a warmer or cooler version of itself. If you modify both colour and tint sliders, it is possible to alter the hue of a patch to any colour. It may, however, require some experimentation to find the one you want.
Light Slider
Adds or removes lightness (luminance) from the patch.
Vibrance Slider (full version only)
When vibrance is decreased, colours near the patch are drawn towards the patch hue, making them more similar to the patch colour. When vibrance is increased, those nearby colours are pushed away, making the patch colour more vibrant and dynamic. When used on white and grey patches, the effect is similar to a saturation adjustment.
Contrast Slider (full version)
Affects the contrast of luminance values near the patch. Increase contrast to make a patch more contrasty, decrease it to make the patch more subtle in tone.
Strength Slider (full version)
Controls how strongly this patch effects the colours in the image. A combination of colour range and intensity controls. For moderate adjustments, a value of 0.5-0.8 is adequate. Values of 1 and greater will impact the entire image to some degree.
Brenda Notes
Tips to get the most out of Brenda.
Default patches
Brenda presets patch 41 (white) and patch 46 (black) to be enabled with no alteration with a power of 1.0. This causes both white and black to be anchors so that other patch changes do not overwhelm.
Patch preset
When you click on a patch that has not been used, Brenda will preset the sliders for that patch according to the adjustments already taking place on colours in that patch according to other patches in use.
This also means that if you deactivate a patch, then click on another patch, any settings on the original patch will be lost; when you return to it the patch is once again preset for you.
Whole image adjustment
Perhaps the most important thing to remember is that Brenda changes everything in the image to some degree. All adjustments smoothly blend into each other, creating a unified colour style. A non-obvious but very useful effect of this is that you can change just the white patch to effect a wide-reaching colour shift -- because every part of the image has a little bit of white in it -- some more, some less. Similarly, changing the black patch will change much of the image as well, but more in the shadows, as opposed to highlights.
Get used to thinking of patch adjustments as "suggestions" rather than "commands" -- as if you were stretching a rubber band rather than bending a wire -- and you will have a better understanding of Brenda's behaviour.
Start with good images
Do not use Brenda to correct bad exposures. For a colour style to have a consistent effect from image-to-image, images used with Brenda should be well exposed and white balanced before Brenda is used. You can use Bibble's exposure control or other "linear" controls to adjust exposure.
Use Brenda appropriately
Use Brenda to create a style and/or tweak images subtly, not to correct big mistakes. Other tools and plug-ins are better suited for correcting mistakes -- Brenda creates moods by adjusting everything at once.
Save your styles
When you create a style you like, save it as a Bibble 5 preset! Give your image style a useful name. You can then reload this style in another session to create a consistent look and feel.
Whence Brenda?
Brenda operates in the colour correction portion of the Bibble workflow; this is fairly early in the adjustment pipeline. As such, it is best to use Brenda before applying other plug-ins or effects.
Legal
Brenda is copyright 2007-2010 Sean M Puckett, all rights reserved. Brenda may not be distributed except via direct download from its homepage.
downloadneeded
1